Official Camping Website
Camping Resort Krk
Join our sports and entertainment activities in the open air
If you love sports and entertainment, Camping Resort Krk is the ideal place for you. Here, you can enjoy a wide range of outdoor sports and entertainment activities all day long.
While your kids are having a great time with their peers in the Maro Mini Club, Maxi Club or Teen Lounge, you can practise aqua aerobics in the sea, Pilates or tai chi. There are also beach volleyball and table football tournaments. If you prefer activities in the sea, you can rent a beach canoe or take diving lessons.
In the evenings, don't miss out on the live music on the summer terrace of the Politin Bistro or beach bar or the evening programme on the Piazza.
Learn more about all the exciting sports and entertainment activities available at the campsite!
Stay Fit – exercise, fitness and recreational programme
Multi-purpose sports court and a wide range of sports
Bicycle rental
Tennis courts with floodlights
Top entertainment options for children and teenagers
Music&Fun – evening music and entertainment programme
I am interested in:
Sports and recreation - the choice is yours
Families looking for an active holiday in Croatia will find Camping Resort Krk ideal, with a host of available sport and recreation options. Stay Fit is our specially designed programme of daily sports activities. In addition, you'll also find here a multipurpose sports ground where you can play volleyball, basketball, badminton and mini-golf, as well as table tennis and tennis. In the vicinity of the campsite, there are boat rental facilities, a diving centre, and hiking and cycling trails that lead through a fantastic landscape for seven kilometres.
---
Stay Fit - Keep in shape and have a great time
Stay Fit is a programme of daily sports activities based on three crucial elements: fitness, enjoyment and discovery.
The programme is suitable for all ages and levels of physical condition and has the aim of encouraging guests to be active in the inspiring surroundings of Valamar's extraordinary locations.
You can start your day with a stimulating morning jog, while in the afternoon you can choose from yoga lessons, beach volleyball competitions, and cycling adventures in the heart of the destination.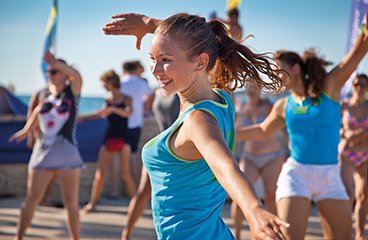 THE STAY FIT PROGRAMME INCLUDES:
Aqua:* aqua aerobics, aqua dance, pool exercises (1 June – 1 September)
Outdoor:* jogging, active wake up, Nordic walking, brisk walking, cycling tours
Fitness:* gym, aerobics, Zumba, dance aerobics, hot iron, street workout
Spiritual workout:* yoga, easy body shaping exercises, Pilates
Sports tournaments:** beach volleyball, basketball, table tennis, badminton, football, bocce, pool games
* At least one group activity a day
** At least two activities a week
---
Sports facilities in the campsite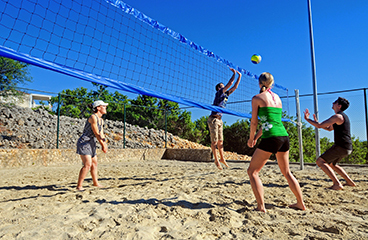 multifunctional sports grounds - volleyball, basketball, badminton and mini-golf as well as table tennis and tennis courts
bike hire
berth for boats
outside trim zone
tennis court with reflectors
---
sports and recreation programme
bike storage and servicing area (along with 40 MH with bike storage)
canoes and pedal boats available for rent at the camping
diving info point – available test diving and organisation of advanced courses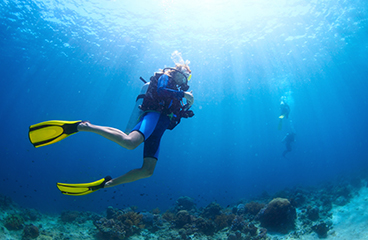 ---
Sports facilities close to the campsite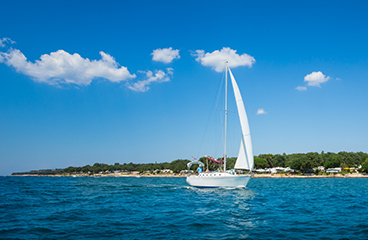 sailing boat, motor boat and rowing boat rental
diving centre: 2000 m from the campsite (equipment available for rent, bottle filling, boat excursions)
"banana boat" rides: 1500 m from the campsite
---
water skiing: 5000 m from the campsite
multipurpose gym: 1000 m from the campsite
football pitch 2000 m from the campsite
basketball court 2000 m from the campsite
bowls court: 3000 m from the campsite
walking and jogging paths
riding centre 15 km from the campsite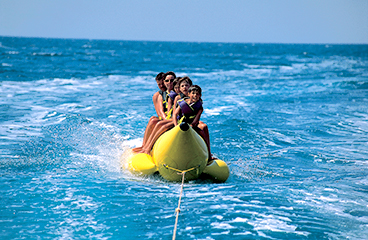 ---
Music&Fun - Get ready for a great time
We've combined live music, themed parties, special events, and interactive fun to cater for the needs of all guests in search of a great time. Enjoy dancing, games, and get-togethers in the friendly atmosphere of Camping Resort Krk.
The Music&Fun programme, which starts in June and continues until October, brings you plenty of music and fun throughout your stay.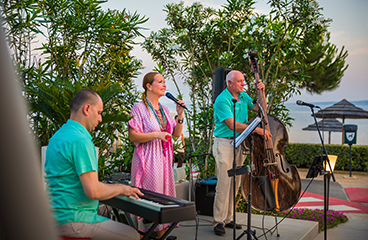 DON'T MISS:
Performances by professional singers, musicians and DJs (three times a week)
Interactive fun with various games and dance programmes (once a week)
Professional dance shows and artistic performances (once a week)
Cinema evenings in the open air (once a week from 1 June to 1 September)
Special events – Campsite Day
---