Official Camp Website
Camping Ježevac
Camping by the sea close to the ancient and pretty town of Krk!
Camping Ježevac is located next to a Blue Flag beach just a few minutes' walk from the historic town of Krk. It's the ideal choice for an action-packed family holiday by the sea as it offers plenty of recreational and entertainment options for all ages.
You can choose from the most comfortable pitches located by the sea or ones situated in the shade of pine trees. If you prefer mobile homes, there are Family and Superior mobile homes located in lush foliage or situated right by the sea.
The main attraction of this campsite is its beautiful 800-metre-long pebbly beach with its stunning view of the Kvarner islands. On the beach and around it there are plenty of amenities within easy reach, ranging from a bar and bistro with a stage for evening events, the children's Maro Club and playground, to sports pitches and open-air massage.
Superb location close to the historic centre of the town of Krk

Well-tended pebbly Blue Flag beach

Spacious pitches and mobile homes close to the sea or in the shade of pines

All-day entertainment programme for children and adults

Bistro and cocktail bar on the beach
New in 2017
50 new mobile homes
new promenade
beach upgrades
new reception for the mobile home guests
What are we proud of?
fantastic location just a 5-minute-walk from the historic centre of the town of Krk
beautiful pebbly Blue Flag beach
spacious pitches and mobile homes
beach bar and grill restaurant next to the beach with an attractive open-air stage
sports and recreational entertainment programmes from June to the end of September
children's Maro Club and entertainment programme from June to the end of September
choice of sports pitches
free Wi-Fi internet
pets are welcome
Experience Camping Ježevac!
Camping Ježevac lies on the island of Krk, the biggest island in the Adriatic, connected to the mainland by a road bridge. The campsite features spacious mobile homes and premium pitches located under a canopy of fragrant pines and within walking distance of the heart of the island's historic main town. With a lovely Blue Flag pebble beach on the doorstep plus a range of sports and activities, this is a perfect choice for those who like camping in a tranquil setting but with the option of having plenty of things to do.
Krk is a great island to explore with a rich cultural and historic heritage and the scene of many year-round events. It's here that modern tourist facilities mingle with traditional villages and cosy taverns overlooking the sparkling Adriatic waters.
At the campsite, a full programme of organised events and sports facilities provide guests with multiple opportunities to keep busy and entertained, while a children's playground and the Maro Club creates a fun, stimulating and creative environment for children. Services such as a beach bar and grill restaurant, free Wi-Fi and on-site supermarket add to the appeal of this quality campsite, as do the live music and dance events on the summer stage.
With easy access via a road bridge and international airport, a scenic island setting and a high level of accommodation, it's easy to see why Camping Ježevac is a popular choice of accommodation in Croatia.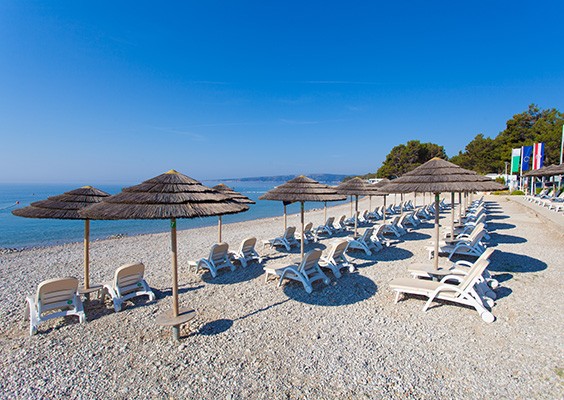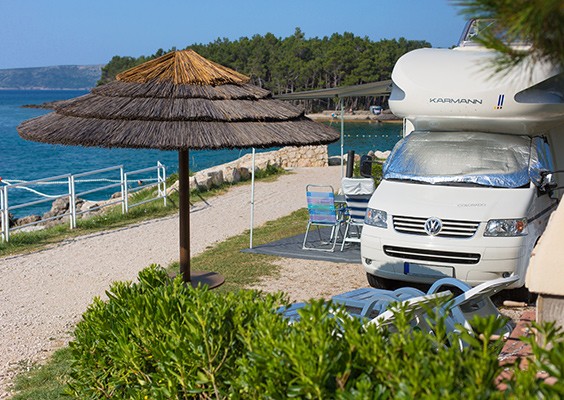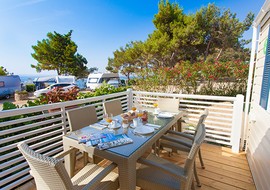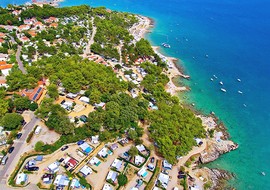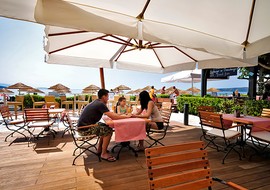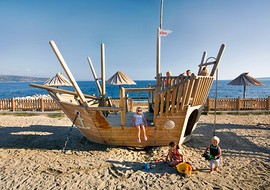 Awards
Camping Ježevac has been the proud winner of this prestigious award used by the Croatian Camping Union to present the highest quality campsites for 9 years.

The Camping Ježevac beach is marked with the Blue Flag - an international symbol of quality regarding a preserved environment, high cleanliness of the sea and the beach, beaches which have been well tended to and the high level of services.

Camping Ježevac adheres to high standards of practice to maximise environmental protection. It has established, and been certified with, Environmental Management System accreditation, according to the ISO 14001.

Camping Ježevac has been named as one of the top three large campsites in Kvarner within the 'Best Slovenian and Croatian Camps' category, 2011, 2014 & 2015.

Zoover Award Bronze 2015 (previosuly known as Zoover Recommentdation).