Official Camping Website
Naturist Camping Solaris
Naturist apartments and rooms close to the sea in stunning natural surroundings
For those looking for extra comfort amidst the natural beauty of the Naturist Resort Solaris, a cluster of pretty Mediterranean houses provide quiet seclusion and added privacy with spectacular sea or oak forest views.
The 144 spacious Solaris apartments, 128 rooms and 12 suites of Naturist Resort Solaris are situated either close to the sea or under a canvas of oak woodland.
The spacious apartments can comfortably accommodate up to four guests in twin or double bedroom and feature equipped kitchen plus - like the rooms and suites - a host of amenities such as satellite TV, telephone, free Wi-Fi and balconies offering captivating views of the beautiful landscape. A pristine beach lies just a short stroll away along a beautiful oak forest trail.
ALL APARTMENTS ARE EQUIPED WITH:
- kitchen equipped with the basic cooking and eating facilities
- telephone
- satellite TV
- mini refrigerator
- linen included; replaced once a week
- cleaning upon request and at extra charge + final cleaning included in the price
- pets are only allowed in selected apartments
- floor type: ceramic tiles
- 220 V sockets
ALL ROOMS ARE EQUIPPED WITH:
- daily cleaning and replacement towels
- telephone
- pets: not allowed
- floor type: ceramic tiles
- 220 V sockets
- satellite TV
Check the availability of our apartments and rooms and book your accommodation at the best rate on our Valamar Hotels & Resorts website.
SUPERIOR ROOM - SEASIDE, BALCONY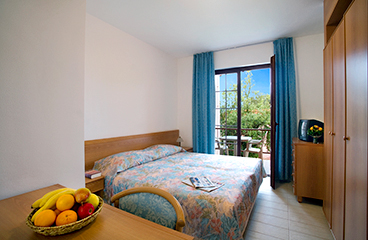 Balcony / Seaside
Double bed / 2 joined beds
Max. occupancy 2 persons
Bathroom with shower
21 m2
---
SUPERIOR ROOM WITH AIR CONDITION - SEASIDE, BALCONY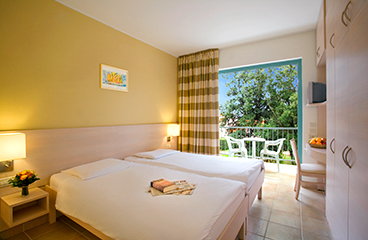 Balcony / Seaside
Double bed / 2 joined beds
Max. occupancy 2 persons
Bathroom with shower
Air-conditioning
21 m2
---
SUPERIOR SUITE - SEASIDE, BALCONY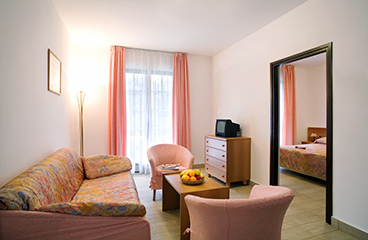 Balcony / Seaside
2 joined beds
Living room with sofa
Max. occupancy 4 persons
Bathroom with shower
43 m2
---
STANDARD 1 BEDROOM APARTMENT (3 PERSONS) - SEASIDE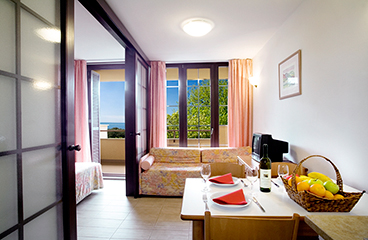 Balcony / Seaside
Bedroom with 2 joined beds
Living room with sofa
Max. occupancy 3 persons
Bathroom with shower
38 m2
---
SUPERIOR 1 BEDROOM APARTMENT (3 PERSONS) - SEASIDE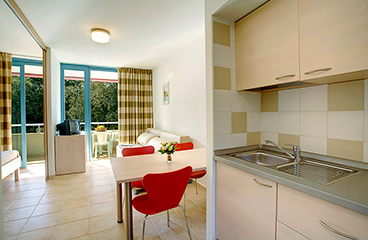 Balcony / Seaside
Bedroom with 2 joined beds
Living room with sofa
Max. occupancy 3 persons
Bathroom with shower
Air-conditioning
38 m2
---
STANDARD 1 BEDROOM APARTMENT (4 PERSONS) - SEASIDE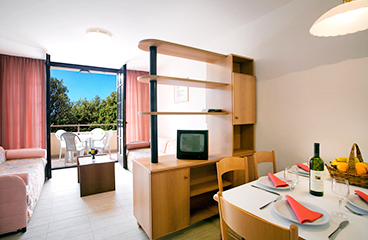 Balcony / Seaside
Bedroom with 2 joined beds
Living room with sofa
Max. occupancy 4 persons
Bathroom with shower
44 m2
---
SUPERIOR 1 BEDROOM APARTMENT (4 PERSONS) - SEASIDE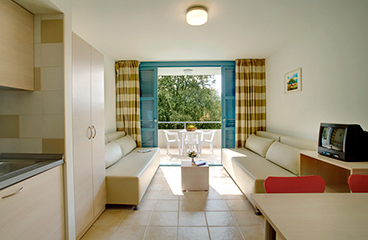 Balcony / Seaside
Bedroom with 2 joined beds
Living room with sofa
Max. occupancy 4 persons
Bathroom with shower
Air-conditioning
44 m2
---