Official Camping Website
Naturist Camping Bunculuka
Local cuisine specialities right on the beach!
In the secluded atmosphere of Bunculuka Beach, you'll find the Boneta Bistro & Lounge – the ideal place to have a cocktail or enjoy fine seafood specialities. On the terrace inspired by the sea, wind and sun, you'll feel completely relaxed while you enjoy selected seafood dishes, Adriatic fish and shellfish specialities, and other highlights of local and Mediterranean cuisine.
Apart from its à la carte menu, Boneta also offers fast food, a bakery with fresh pastries and croissants, and a kiosk with fresh fruit and vegetables.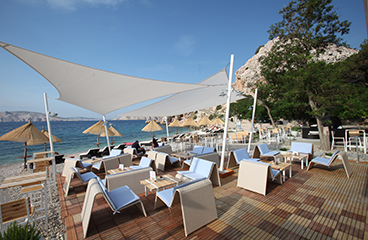 Boneta Bistro & Lounge
Bistro & Lounge on the beach
à la carte menu: local and Mediterranean cuisine
wide range of drinks and cocktails
additional menu and items: fast food, bakery with fresh pastries, sale of fresh fruit and vegetables
opening times: from 07:00 – 23:00
Guests in the restaurant must wear clothes (dress code: swimsuit and pareo or towel).
The Boneta Bistro & Lounge on Bunculuka Beach offers fish dishes and local and Mediterranean specialities. Guests can relax on the tastefully decorated terrace, enjoy a cocktail and gaze at the sea and nearby islands. The atmosphere in Boneta is particularly romantic in the evenings with light music and the crimson shades of dusk.